Originally from ARTERYNYC.com
---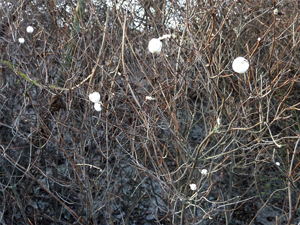 This text is part of ongoing location-based dialogues by Maria Hellström Reimer and Milica Lapčević, two European artists and researchers, under the title BLIND POINTS OF TRANSITION, consisting of concurrent and inter-locational field observations in Malmö, Sweden and Belgrade, Serbia. The on-site notations are followed by intertextual interventions that seek to challenge gaps in time and space.
Around 14.00
Västra Hamnen
Malmö West Harbor, Sweden
What is there, on the other side?  I can vaguely see the other coast, in the distance, between two gray surfaces of the horizon getting closer, fusing into each other: water and sky.  The landscape is lit up on its edges, the white diffused glow reminds me that winter is coming very soon.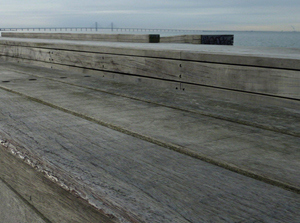 Along the road, I notice bushes with little soft round berries, milky white and smooth.  The same sort I would pick up when my father used to take me for a walk in the park fortress in Belgrade, when I was only four years old. In those times I was not wondering if they were poisonous.  I would just mechanically pluck them off, while he was quietly standing, serious and not playing with me, but enjoying the greenery.  "Greenery offers a rest for tired eyes" he would say, and repeated that practical thought on many later occasions. "Just to stare at greenery helps to relax and rest eyes that are tired from reading."
Our little platform was the end of the park road, grown with grass and bushes and rare trees. "Why do we have to go home? Look how many little white berries I have collected…" Strong  cold wind sweeps away these memories of rare moments I have spent with my father.
14.50
Emptiness of the coast reminds me of a poem written by Harold Pinter.  I see a truck, with two men in the cabin, and workers in the distance on the heights of a building structure. Everyone seems anonymous, even me. Anonymous passers-by.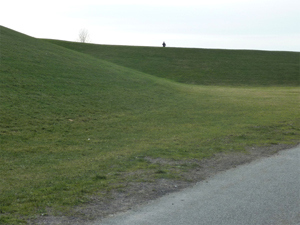 Harold Pinter (Death)
(Birth and Death Registration Act 1953)
Where was the body found?
Who found the dead body?
Was the dead body dead when found?
How was the dead body found?
Who was the dead body?
(…)
Somewhere a murder might have been committed and body disposed on the grass, on one of the lonely turfs in front of me, in some corner, left, forgotten, victimized, thrown away. As an expression of massive dissatisfaction, or of a perverted need to submit, or manifestation of power, or of accidental uncontrolled aggression.
Poem continues….
What made you declare the dead body dead?
Did you declare the dead body dead?
How well did you know the dead body?
How did you know the body was dead?
Did you wash the dead body
Did you close both its eyes
Did you bury the body
Did you leave it abandoned
Did you kiss the dead body
(1997)
A poem Pinter quoted in his Nobel Prize speech.  Animosity and anonymity of our time, that is using death as a message.  Strong sadness of questions such as / who found the dead body?  Where was the body found?
15.10
Staircase made of huge stone blocks, leads to the water, supersized.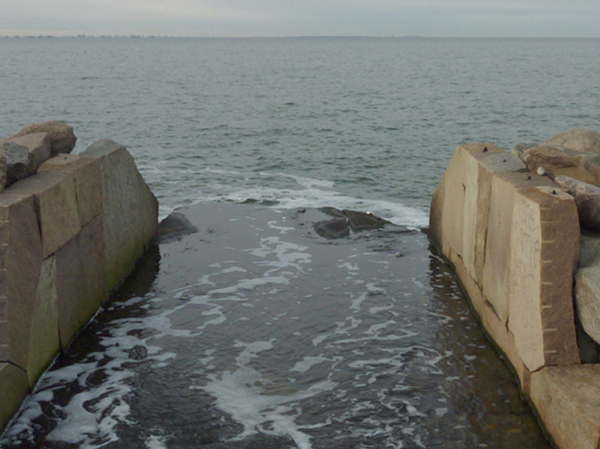 HOW MANY BEINGS WE DON'T KNOW, THAT LIVE UNDER THE SURFACE OF THE SEA?
Dark water contrasts to stones.
Further ahead, an obviously artificial hill is covered with grass.  Inside is an  acoustic amphitheatre  playing "Bourbon Street" by Sting… Rhymes, with his voice, sound as a harsh cry against alienation.  Our greatest hope is that someone will still hear the cry.  Greenery is perfect.  Low grass with grayish reflection wet and gentle…
IF GIVEN OPPORTUNITY TO SPEAK ON LOUDSPEAKERS, IN PUBLIC – WHAT WOULD ONE WISH TO SAY?
WHAT KIND OF MUSIC WOULD ONE WISH TO PLAY?
DO WE STILL HAVE HOPE THAT WE WILL COMMUNICATE WITH OTHERS?
WHAT ARE THE LIMITATIONS OF LANGUAGE?
Two mothers pass by, pushing two baby wagons. They are dressed in gray and black and followed by two dogs, one black and another white…
Another sharp curve, and one can see a staircase where some stones are painted in bright colors – red, blue, yellow and green.  Reminding of the Mediterranean.  One could also think of attempts to paint flags of different nations there, but stones… they are so much darker than those in the south…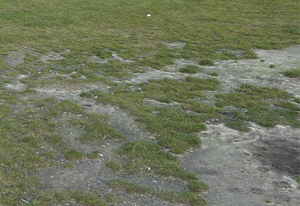 15.15
This is the place where wilderness touches the city and a beach is a negotiation between two forces – housing and waves…. A welcoming wooden deck. I can imagine it crowded in the summer.  Multiethnic, multinational?  Happy, lazy, integrated crowd?  It is rare that revolutions start on the beaches.
Observing the waves I think about the strength of motion.
HOW DOES THE INTENSITY OF GRAVITATION CHANGE FROM DIFFERENT POINTS?
IS THERE ANY POINT WHERE ONE CAN TURN WEIGHTLESS?
WHAT CONTROLS OUR SENSE OF STABILITY AND WEIGHT?
Sometimes we only wish to remain at some point, responsive to the landscape.  Thin elegant line of Öresund  bridge is in the lowest left corner of my view.
Stream of water is mixing with the sea, under a small bridge.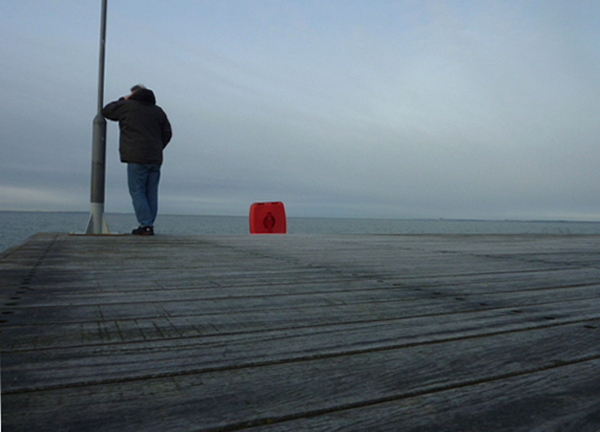 15.30
On the left I see the greenhouse, a climate controlled glass bubble with an interior garden full of exotic plants. Coming closer I see that it is empty, but benches and tropical trees inside appear as a theatre set for an American contemporary drama piece, or scenery for some of Ingmar Bergman's films.
Under the ambivalent title Damage, we could imagine that it tells a story about family gatherings in the greenhouse in front of an old house… for Bergman was never interested in suburbs, but in the life at the center of a community, battles that were already lost and secrets revealed at the wrong moment, through some seemingly unimportant detail. The fact that the greenhouse has a little crack on one of its walls, for example, could inspire a massive family drama.  I can almost imagine that film with very long, very slow sequences.
15.50
At the end of path, in a small square, a father and son with a helmet on his head, play in the sand.  The light is lower and rain slowly starts.  Their silhouettes can be seen together with the silhouette of a bicycle, parked near a lonely tree.
WHAT IS YOUR LIFEPLAN?
DO YOU LET THE OTHERS COME INTO YOUR LIFE?
Rain is becoming stronger and the sea is getting rough.
Father and son will leave soon.
In Turning Torso few windows are lit up, on higher floors.
Windows in the other buildings on the coast are dark, in uncertain silence.